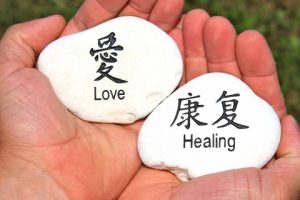 Hello, my name is Terry McMillion.
I am a successful business woman that has been in project management as a federal contractor for 24+ years. I am a ART/MASTER Teacher Practitioner of Usui/Tibet Reiki, Karuna Reiki Master/Teacher.Practitioner.
I also hold certifications in Integrative Reflexology@ and Quantum-Touch@. Studies in Kinseiology, essential oils and healing herbs. I am a practitioner using a a combination of energy healing modalities as guided to help those looking for mind, body and soul healing. This is my story. My father was diagnosed with cancer in 1979. He was determined not to let it beat him and went through a radical diet change. This never cured his cancer, but it stopped the growth and he was able to live with it. He used to say, "I will never die of this cancer but something else will get me, kid." For years, I witnessed my father ingest copious amounts of Coumadin for his heart condition, medication he called "rat poison." Suffering from high blood pressure took a toll on his heart. In April 2009, my father was taken to the hospital with a severe headache which was discovered to be a slow vessel leak, filling his brain full of blood.He would later pass into the light. I always admired my father's insight and belief system. With help from his
doctors, he lived 20 years after being diagnosed with cancer and true to his word, he passed away from another ailment. This broke my mother's heart. They had been married 62 years, but she was able to continue living a viable life with the aid of her children.
In 2010, my mother came to visit me for Easter only to never make it back home. After discovering that osteoporosis was in her spine, she fractured a vertebra and needed surgery. She was inflicted with an E. coli
infection from a surgical wound in her spine. The E. coli mutated four times, making it impossible to cure, and she passed in August of 2010. Before she died, my family and I participated in 24/7 vigils at my mother's bedside.During this time, I observed and was saddened by those who were alone, having no one to show compassion for them in their time of needing love and light. I thought as humans, we could and should do much more. Western medicine can only do so much. Medical facilities are so overwhelmed by keeping the bottom line out of the red.Nurse to patient ratio is in need of repair, in my opinion, and the population of the elderly and sick is growing.For me, that was the beginning of my serious search in energy healing. At that time, I was still working as a consultant with several clients, reading magazines and books and listening to audio tapes. Without losing interest in general business practices, I slowly began to incorporate my intuitive energy vibrations into my daily life and noticed differences in my business decisions. I also noticed significant weight loss, which made me more interested in knowing what else there is to the physical human body that we don't know – anatomically and biologically.
The passing of my parents back to back was a heartbreaking and profound event in my life. My parents always had a passion for healthy eating and taking care of themselves in their golden ages. In my healing process, I followed their lead and learned how to meditate to bring inner balance and peace. I was also introduced to the vibration and healing properties of crystals. While wearing some of these crystals as beaded necklaces, I noticed that my asthma improved during allergy season and my anxiety symptoms lessened. That got my attention and raised my curiosity about the metaphysical properties of the crystals.
In 2004, due to severe, annual sinus infections, my doctor prescribed a "new and improved" antibiotic.Unfortunately, the reaction I received from the medication wasn't the lack of sinus infections. It was Diabetes II.Because of my sheer determination of not wanting to live with this chronic disease, I began to eat for my blood type. I introduced juicing and removed the major part of refined sugars and starch from my diet. I worked with my endocrinologist to go over diets and the vitamins and meds I took, working hand in hand to make my life healthier.I became curious about that spark which gives life to every cell in our body. This opened a whole new avenue in my life. I started to explore and learn about the body's energy system through Reiki, a complementary healing modality. I came to experience that this healing therapy gives one the tool to help oneself and others. It raises one's awareness to see that each of us has the innate wisdom and ability to improve his or her health and become a
harmonious whole being. Sharing the love and light of life has now become a passion for me.I have always been driven by the desire to help others. At age six, I pretended to be a doctor wanting to help
others, practicing on my pets and dolls. At age 10, I was already browsing a medical encyclopedia my father bought me from a bookstore as I was fascinated by the anatomy and physiology of the human body and the way it worked.I truly believe he got tired of me asking him "how?" and "why?" Now having my horizons opened to energy healing with love and light, I know that I can still help without being a
medical doctor. Thanks to these wonderful healing arts, I have the privilege to do what I've always loved to do; help others and also myself by bringing the love and light to all who want to receive it.
Dedication:
In loving memory of Fred and Charlotte Houser; may the love and light you gave to me in my life be with you both. I dedicate this foundation in their honor and to give the love and light to my fellow brothers and sisters.